16 - 18 augustus 2019 - LA NINA in Balletschool FIRKIN CRANE, CORK, IERLAND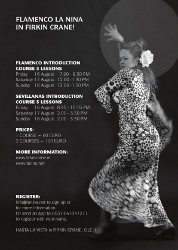 From 16 to 18 august LA NINA will give TWO INTRODUCTION WORKSHOPS FLAMENCO AND SEVILLANAS in the Dance School of FIRKIN CRANE, CORK. For everybody who always wanted to get to know Flamenco, there is the possibility to follow 3 classes Flamenco Introduction and Sevillanas. The classes are open for everybody between 12 and 60 years, both women and men! Also on www.firkincrane.ie you will find the information. It is also possible to follow both workshops. The courses are on friday night and saterday and sunday during day time. After the 3 days course weekend everybody participating can give a presentation either in Firkin Crane itself of the Metropole Hotel in MacCurtain Street. This will be more clear later on. La Nina will also perform after the course as a singer and dancer.
TIME SCEDULE:
Friday 16 (evening) - Saterday 17 (daytime) - Sunday 18 (daytime)
COSTS: 60 euro for one course, 100 euro for two courses, to pay directly in the 1st class.
INFORMATION:
You get the leaflet by writing an email to: This email address is being protected from spambots. You need JavaScript enabled to view it..
REGISTER: You can put yourself on the list by sending an app to 0031-641047277 or write an email to: This email address is being protected from spambots. You need JavaScript enabled to view it..
Would be terrific to give class in Cork! The course will possibly will followed by more regular classes in autumn if there are enough numbers of enthusiastic people!
---
OPTREDENS LA NINA
Zie voor actuele informatie over optredens van de latin-flamenco groep FLAMBOSSA: La Nina: www.lanina.net/Productions.
---
NIEUWS: LA NINA HOUDT EEN SABBATICAL in het seizoen 2019-2020 voor de vaste lesjaren...
In seizoen september 2019 - juni 2020 geeft La Nina géén reguliere jaarlessen. Het is na 25 jaar tijd voor een jaartje SABBATICAL. Wél is La Nina beschikbaar voor: LOSSE WORKSHOPS, SEVILLANAS, KINDERFEESTJES, VRIJGEZELLENPARTYS, en uiteraard de OPTREDENS MET FLAMBOSSA: een mooie mix van latin (flamenco light, fado, bossa nova, bolero's) zang en hier en daar een stukje flamencodans. Zie allerlei andere pagina's op de site! Let op, de volgende vervangers gaan lesgeven in de diverse steden: Mario Garcia op de woensdagavond in Amsterdam, Casa Sevillanas. Zie verder www.mariogarcia.nl . Vida Peral in Haarlem op de dinsdagavond via Centrum Hart, contact haar via www.vidaperal.nl of via centrum Hart: www.hart-haarlem.nl En tenslotte Javier Romero op de maandagavond in Hilversum via Globe. Je kunt hem vinden via FB via Studio 95 Amsterdam. Of gewoon via Globe: www.globeckc.nl Zij gaan allemaal lessen geven op diverse niveaus, beginners tot gevorderden. Neem ajb contact op met hen of kijk voor verdere informatie op de sites van Globe of Hart.
---
LA NINA ZINGT! Met Bart van Uden gitaar, en Roberto Haliffi percussie
Optredens in latin sferen uit Spanje, Portugal, Brazilië en Argentinië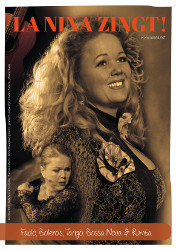 FADO, TANGO, BOSSA NOVA, BOLERO'S.....La Nina zingt ze met passie, emotie en vrolijkheid! Bart van Uden op de gitaar, en percussionist Roberto Haliffi zijn de ervaren uitstekende begeleiders. Bij grotere bezetting is ook een pianist aanwezig. Uiteraard danst La Nina altijd een paar korte spetterende stukken flamenco erbij om de show compleet te maken. Te boeken als duo, trio of kwartet! La Nina en haar latin band zijn multi inzetbaar: optredens voor het kleine theater circuit (wereld/jazz), bibliotheken, thuis feesten, verzorgingstehuizen, bedrijfsevents en als mooie achtergrondmuziek. Neem gewoon even contact op via This email address is being protected from spambots. You need JavaScript enabled to view it. of 06-41047277. Hasta la Vista!
---